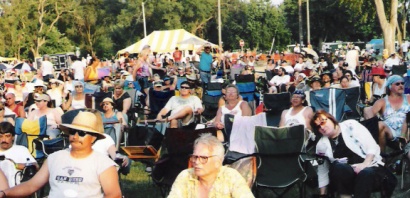 The Prairie Dog Blues Festival is committed to bringing Prairie Doggers the best in Blues & Roots entertainment and we will do our utmost to keep this great American art form alive and flourishing. Every year our line-up consists of established Blues & Roots artists that you know and love combined with up and coming artists that we search high and low for. These are the artists that you'll fondly remember and say "The first time i saw those guys was at the Prairie Dog Blues Festival and nobody knew who they were, but "THEY BLEW THE ROOF OFF THE STAGE!"
Maps & Directions
Click here for detailed information on how to get to the Prairie Dog Blues Festival via automobile.
Venue
The Festival is held on historic St. Feriole Island, right on the Mississippi River and nestled between jagged cliffs and green hills untouched by the Ice Age!
Food & Beverage
You won't go hungry here. There are a variety of excellent food vendors cooking their specialties, ranging from good ol' American food to Cajun and BBQ; plus sweets for your sweet tooth. Our beer tent, with it's own music stage, serves up many varieties of ice cold beer and wine coolers along with pop and water. Cigars are also sold here.
Seating
This is festival seating in a park-like setting with plenty of trees and grass. Bring chairs and blankets.
Parking
There is plenty of parking on the island.
No Carry-ins
Absolutely no carry-ins of food or drink are allowed, but coolers with ice are allowed to store beverages purchased at the Fest.
Shuttle Service
The shuttle runs to most motels in town. When booking your motel room, ask if they have a shuttle running to the Blues Fest. The shuttle also runs to the Winnishiek bar & marina next to Sports Unlimited Campground. For shuttle service call Coulee Cab at (608) 326-8888
City Life
Downtown Prairie du Chien offers plenty of restaurants and pubs. Shopping is only a two block walk off of the island.
Arriving By Boat
Winnishiek Marina:  608-326-2888
Arriving By Air
Prairie du Chien Airport:  608-326-9122
Camping Info
1) Campsites are 1st come, 1st serve and you can camp as early as Thursday (not before as we do not start renting the land until Thursday and the city may fine you). We do not want anyone to get a ticket. If you are a virgin Prairie Dogger, just ask someone where to camp so you are on the correct block. You will be camping in a city park right on St. Feriole Island. Paved streets run through blocks of flat grassy areas and old growth trees where you will camp. The longest walk to a campsite is 3 blocks.
2) Sites are not defined, so we ask that you just take a reasonable amount of space. 4 people per site and no more than 2 vehicles. You can buy an extra camp wristband for $20 if you have an extra person or 2, otherwise another site will need to be purchased. Volunteers do go around and check campsites, but we really rely a lot on the honor system with our fest campers. We just ask that people that want to see the festival continue, just be fair and honest as our goal is to not be like other festivals that are laiden with too many rules and tightly defined spaces.
3) Even though you may book your camping in advance, all campers must register their site at the main gate to receive their camp registration pass and camp wristbands.
4) If you camp on Thursday, don't worry that you don't have your camp pass and wristbands yet. Just register on Friday when we open.
5) Campfires are allowed. Campfire rings are preferred. If you do not have one, you can dig a pit and replace the sod when you leave. Please keep foreign objects like glass and bottle tops ect. Out of the pit. Please clean your campsite and deposit all garbage bags in the main garbage receptacles.
6) There are limited electrical sites to be rented (20 amp, 30 amp 50 amp) and can only be booked on through our online ordering page. Once they are sold out, you may call the office line and reserve a site at a first reserve basis if additional sites become available the week of the festival.
7) Showers are available at the P.D.C. Aquatic Park for $2 per shower. You will be given directions to it when you register your site. 5 minute drive from campsites.
8) There is no dump station on The Island, but there is a water hook-up on the corner of Villa Louis Rd. & Rollette St. on the Island.
9) Pets are not allowed.
10) Food and drink carry-ins are totally allowed in camping areas, but cannot be carried into the music ground area. This includes water.
11) There is no limitation on camper or RV size and pricing is the same for all. If you have a generator that you are planning on running, please locate on the same block as other RV's.
Other Questions?
Email info@prairiedogblues.com