Due to Covid-19, our dates of July 24 & 25 have been postponed until sometime this early fall or next year. We are working hard with the city of Prairie du Chien to reach an agreement that The Prairie Dog Fest could still be held this fall. Please remember to cancel any motel reservations you may have for July 24 & 25. Please watch our website and Facebook page for additional updates. 
---
---
If you are not signed up on our mailing list, please do so as we will be sending out an important survey to all on the list asking if you are planning on attending this fall or not. This is important information which will help us in determining if we can keep moving forward with our plans. We will continue to work hard to bring you The Prairie Dog Blues Fest. Long live the blues!
---
---
Welcome to prairiedogblues.com! The Prairie Dog Blues Festival is held every year on historic St. Feriole Island, right on the Mississippi River and nestled between jagged cliffs and green hills untouched by the Ice Age!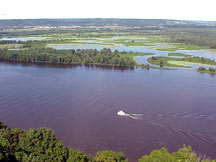 Once you get that cold drink in your hand, great tunes in your ear and good, friendly people all around, you'll realize your at one of the most beautiful venues anywhere. You'll soon be calling yourself a Prairie Dogger! Blues and Roots music from Chicago Blues to West Coast Jump, hard-driving Mississippi Hill Country Blues, New Orleans horns and Texas Boogie, Zydeco, Gospel, Blues Rock – We've got it all!